I have seen some awesome label art from local Michigan brewing companies and wineries lately that feature pin-ups. The labels have inspired me to write about the king of pin-up art, Alberto Vargas (Peruvian, 1896-1982), and his stunning work. I of course am drinking the Kinky Pink Roscato for this blog post ... it is DELICIOUS! 
A little background on Alberto Vargas: "As a boy he assisted his father in the studio--all the while learning the ins-and-outs of photography and artistic techniques including the retouching of negatives and the use of airbrushing. In 1911, he was sent to Europe (with his brother, Max Vargas II), for a Continental education and planned apprenticeship with a London photographer. However, his real education came by exposure to the great museums and galleries of France, Germany and Switzerland that showcased the late 19th century movements of Aestheticism and Decadence, along with the burgeoning schools of Dada and Surrealism."1
He had to go back to Peru due to World War I raging in Europe at the time. On his way home from Europe he ended up in NYC and to the benefit of the art world he stayed.2 He would go on to illustrate for Esquire and Playboy magazines where he developed his instantly recognizable style. 
So what is his style exactly? He painted women not wearing much of anything in sometimes (usually) suggestive poses. The lines are curvy and his colors are fairly muted unless it is red. He LOVED bright red and used it A LOT. That is my favorite thing about his work. 
Another distinguishing element of a Vargas painting is that backgrounds are rarely added. I would say never but there is probably an example out there I am not familiar with. Typically Vargas would use a solid color for his background like in the example below.
So how did Vargas set his stages? He used the model's pose, wardrobe and props to create the setting. There are tons of examples of Vargas paintings with women on the phone or 'playing' the guitar. 
These props and poses add spontaneity and gives the viewer the feeling we are catching the model going about their lives.  Check out my gallery for more images. 
So Vargas was known for  his use of props, lack of background and spontinaety - did this have any impact on art history and pop culture? Hell yes it did! If someone says pin-up girl you probably picture something like one of the examples above. A lot of the current makeup and hair trends are influenced by pin-up images.
Society also changed with the help of Vargas' work. His work with Playboy and use of suggestive poses attempted to normalize female sexuality. On the flip side his work was integral in developing today's beauty standards that are completely messed up. There is no equivalent work that I can think of that use male subjects in the same way. If you know of any I would be interested to hear about them!
Hmmmm.... so you can look at his work two ways: hypersexualization of women or liberation of their sexuality. I think it is a good topic for a discussion of gender and feminism in art. Is he empowering his models by letting them be themselves? Is he putting them there for our consumption? I personally think of his work as more of a unique celebration of women than objectification of them. I hope your inner feminist isn't as conflicted about liking these works as mine is. 
My inner feminist right now: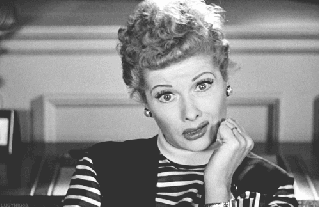 I hope you enjoyed these pin-ups and learned the impact they had and continue to have.
Cheers! 
1&2) http://www.vargaspinupart.com/albertovargashistory
Please reload